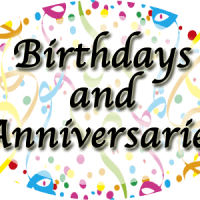 October 1
October 2
Rhonda Pleuss-Way younger than Kim
Paul Bluel
Kade Wilson-2
Barry Markielewski
October 3
Tim and Rhonda Kemmel – Happy Anniversary!
Brian Hurley-Travel Leaders
October 4
Jane Neckuty-60
Dennis and Denise Kemmel-Happy 46th Anniversary!
Teagan Checolinski-Happy Golden Princess Birthday!
Mario Perez-Happy Belated 16th Birthday!
Kraig Peterson-41
Trinity Hall-Happy 7th Birthday from Grandma and Grandpa
Terry Kohlman
Gina Krief
Mike Davis-too old
T.J. Baesly-45
October 5
Katie Beltz & Justus Trewin-Congratulations on your wedding!
October 6
Henry & Emily Guell-Happy 1st Anniversary!
October 7
Andrew & Jessica Fischer-2
Leslie Rose Immel-36
Carter Twohig-Happy golden 7th Birthday!
Tom Moore-Happy Belated Birthday
Holly Mueller-Happy Belated Birthday
Gavin Glass-Happy Belated 2nd Birthday
October 8
Iana Stoinski-15
Derek & Shannon Toshner-Happy 15th Anniversary!
October 9
Patrick Flanagan-Happy Belated 38th Birthday!
October 10
Sandy and Bill Hoepfner-55
Patrick Koerner-38
Allen Mauk-Happy 43rd Anniversary!
Kali Stoinski-14
Wade Stoinski-35
Quintin Pierquet-St Cloud
Bill & Joyce Bartz-Pickett
Hudson Wollersheim-3
October 12
Marge Geiger – 85
Dawn Brand – 55
Logan Bayer – 4
Shannon Toshner-Eden
Debbie Dale Wagner – Armstrong
Ben & Sarah Turner – 7 Year Anniversary
October 13
Rudy Guerrero-77
Oct 14
Joe and Becky Schneider-30
Neil and Deb Olsen-Happy Belated 34th Anniversary!
Kye Reseburg-Happy Belated 3rd Birthday!
Oct 16
Butch & Cathy Drew-Happy 37th Anniversary!
October 18
Marlys Belden-64
October 20
Ella Blackburn-16 Happy Sweet Sixteen!
Maggie Roberts-68
Stacie Smith-45
Eli Mirtz
October 21
Nancy Smith-Still younger than Kim
Kane Vende Hei-13
November 1
Glenn Vantassell=57
November 18
Michelle Vantassell-27