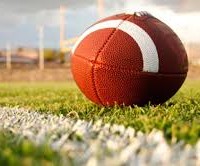 THE WLA VIKINGS SHUT OUT VALDERS IN A DIVISION 5, LEVEL 1 GAME AT WLA. THE VIKINGS GOT ON THE SCOREBOARD IN THE 1ST QUARTER WITH AN ERIC SCHMITZ 5 YARD RUN.
THEN JUST BEFORE HALFTIME, SCHMITZ CONNECTED WITH KULIBERT ON A 73 YARD PASS. MAKING IT 14-0 AT HALF.
WLA'S DILLON JERDEE RAN A 36 YARD TD SCORE IN THE 4TH QUARTER TO ICE THE GAME.
WLA FINISHED WITH 406 YARDS OF OFFENSE.
VALDERS FINISHED WITH 273
WLA'S ERIC SCHMITZ FINISHED WITH 105 YARDS RUSHING A 1 TD. ALSO 136 PASSING AND A TD.
WLA WILL TRAVEL TO SOUTHERN DOOR NEXT FRIDAY NIGHT, OCTOBER 28