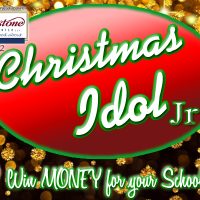 Touchstone Living Center Christmas Idol Jr. is giving area elementary schools the chance to win some money for their school and a pizza party!
This holiday season, Touchstone Living Center, Eaton's Fresh Pizza, Fond du Lac Credit Union, and Sunny 97-7 are presenting "Christmas Idol".  This is your chance to spotlight your entire school band, choir or even a specific grade from your learning facility!  All schools – grades K through 8 – in Fond du Lac, Dodge, Winnebago, Calumet, Green Lake, Sheboygan and Washington counties will be invited to submit a recording of their band, choir and/or class singing one holiday song.
Beginning Wednesday, December 7th, we will play two entries per day on Sunny 97-7.  Entries will also be posted on our website at www.sunny977.com.  Listeners will then have a chance to vote for the Sunny 97-7 Christmas Idol. There will be one category: K-8. The winner in will get the opportunity to enhance their music department: $500 cash from Fond du Lac Credit Union! Second place will win a pizza party from Eaton's Fresh Pizza!
Also brought to you by Kristmas Kiringle Shoppe in Fond du Lac!
If you would like to email class recordings, please do so in the form of an mp3 to Drew@wfdl.com.
You may also drop off CD recordings at 210 S. Main St. Fond du Lac. All entries must be received or submitted by Monday, December 18rd!
Please email Drew@wfdl.com with any questions.