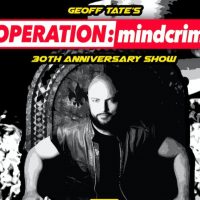 For tickets to Geoff Tate of Operation Mind Crime... Click Here.
Geoff Tate joins us as we celebrate both the 4oth anniversary of Walleye Weekend and the 30th Anniversary of one of the best-selling rock concept albums, Operation: Mindcrime – certified Platinum and named as one of the "100 Greatest Heavy Metal Albums Of All Time." Come again and follow Nikki through his journey of a corrupt society as he gets involved with a revolutionary group along with Father William, Dr. X, and Sister Mary.
Geoff and his electric band will perform the album in its entirety, featuring the hits "Revolution Calling", "I Don't Believe In Love" and "Eyes Of A Stranger" along with a greatest hits set featuring "Jet City Woman" "Empire" and the forever signature "Silent Lucidity".
Join us June 8-10 for the 40th anniversary of Walleye Weekend.