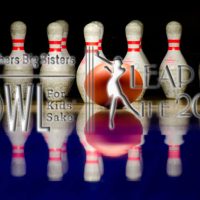 'LEAP INTO THE 20'S'
FEBRUARY 28 & 29 IN FOND DU LAC, MARCH 1 IN RIPON
Parkway Lanes, 509 N. Park Ave. Fond du Lac, WI 54935
Plaza Bowl, 1216 W Fond Du Lac St., Ripon, WI 54935
F. Scott Fitzgerald's explanation of the Roaring 20's …
"The restlessness approached hysteria. The parties were bigger. The pace was faster, the shows were broader, the buildings were higher, the morals were looser, and the liquor was cheaper; but all these benefits did not minister much delight."
WWWEEELLL … Big Brothers Big Sisters of Fond du Lac Co. is going to take exception to that by hosting the city's best Sockdollager (aka most AWESOME) event in town!
Our Annual Bowl for Kid's Sake (BFKS) event is 'Leap into the 20's'. It will be held February 28 & 29 in Fond du Lac and March 1 in Ripon.
This event is going to be the bee's knees!
First, you need to "know your onions" about BFKS. You need to grab your gang (some family members, co-workers or friends) and form a team (you do not need to be a good bowler!!) Then, get yourself registered online. If you prefer more of a 1920's feel, print out a pledge sheet from the website or request a pledge sheet from the office. Then proceed to collect the mazuma (yep, money!).
When your chosen shift arrives, jump in your hayburner and drive to Parkway Lanes in Fond du Lac or the Plaza Bowl in Ripon for the best darn party in town.
There are prizes for bowlers who raise the most Mazuma and for all of you Oliver Twist's out there start spiffing up on your dance steps. There will be prizes for best costume and best dancers. Some shifts will even have live music. All you good eggs need to dig out your suit (zoot, jazz or pinstriped) to look your best. You dames will need to find your flapper dresses or skirts, feather boas and beads and be ready to shake your sequins.
This year we are adding something new to Bowl for Kids' Sake: live music! Make sure to stick around Friday night from 6:00pm-10:00pm for the Kenny James duo and Saturday night from 6:00pm-10:00pm for North Soul.
So … don't be a wet blanket and sign up immediately for the Big Brothers Big Sisters Bowl for Kid's Sake 'Leap into the 20's'.
When you support Big Brothers Big Sisters of Fond du Lac County you help local kids. You get it, you know … you are on the trolley.