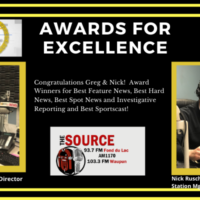 Wisconsin Broadcasters Association Honors Local Radio Stations
The Wisconsin Broadcasters Association recognizes outstanding achievement by member Wisconsin radio and television broadcasters every year. All entries must have been "on-air" or published during each calendar year. Award markets are sorted by size, and the contest is judged by radio and television peers from outside the state of Wisconsin. 
Radio Plus, Inc. radio stations earned several awards in the medium market category. 
WFDL News Director, Greg Stensland,  took home first place in the Hard News/Investigative reporting category for his overall coverage of flooding in Fond du Lac County last year.  Stensland also won awards for Spot News Coverage for up to the minute stories of the ice jam flooding on the Fond du Lac River and in the category of Best Feature News & Talk for a new story titled, "Gift Of Independence"  about a specially-equipped van for a local young man with cerebral palsy.   Over the last 25 years Stensland has won more than 150 awards of excellence in news reporting. 
In the category of Sportscast, Nick Rusch's morning sportscast on  93.7/103.3/AM 1170 WFDL "The Source"  earned a second place award in the medium market category for daily sports coverage.  Rusch has won 14 Wisconsin Broadcasters Association Awards.
Over the years Radio Plus' radio stations have earned over 200 awards from the Wisconsin Broadcasters Association.  Radio Plus, Inc. is located in downtown Fond du Lac with offices in Waupun and Mayville and is home to Sunny 97-7, FM103.3/AM1170, The Great 98 and 95 & 96-1 The Rock and The Great 98.